Maintenance of Way (MOW) Equipment tailored to your needs

MS RAIL brand focus on all rail maintenance equipment for transits, railroads and contractors.
When it comes time to think of rail maintenance equipment for changing climates and harsh working environments, MS RAIL comes to mind. Despite the extreme operating conditions, MS RAIL equipment is sturdy, ergonomic and among the most reliable in the industry.
The company benefits from a creative and experienced team always ready to outdo the needs of its customers. From design to manufacturing, including refurbishing and scheduled maintenance, MS RAIL presents a solid know-how in the railway sector.
MS RAIL mission is to manufacture innovative and effective solutions for the railroads, but also subways and trams as well as branched industrial sites. With our passion for challenges, we will also take on Special projects. Take a glimpse at what MS RAIL is offering.
Click here to contact our team.
MS RAIL Rail Changer, model UTV, offers high safety standards and level of comfort for your crew. This multipurpose rail equipment comes handy when rail maintenance is done on long distance in remote regions.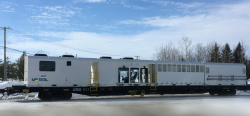 Latest equipment to be launched, MS RAIL Vegetation Control Unit is loaded with high-level technologies for greater control over chemicals used at this task, making the equipment environmentally and community friendly.
MS RAIL distributes DSS Grizzly Blower truck. This equipment eliminates the need for operators, on foot, between the rails. It also reduces the time required compared to a manual compressor system with a lance.