EPIQ Machinery: a successful first year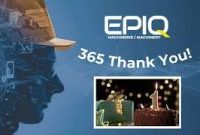 Press Release | For immediate release
EPIQ Machinery: a successful first year
Saint-Bruno de Montarville, August 25, 2022 – One year after its merger with Mecfor and Advanced Dynamics, EPIQ Machinery is concluding a successful first year that has seen solid growth for the company. Over the last twelve months, the company has recorded a 30% increase in sales and a 25% increase in its workforce in Québec. EPIQ Machinery's goal is to become the leader in providing global solutions for innovative equipment dedicated to the aluminium, pulp and paper, and rail industries to improve production processes and handling. The Quebec company established in Saint-Bruno and Saguenay builds its success from its strategy of constant innovation, multiple product lines, and development of strategic partnerships.
Innovation at the service of growth
Through its versatility and the diversity of its activities in strategic industrial sectors, EPIQ Machinery has developed a valuable global vision when it comes to rationalizing expansion and improvement projects. As a result, EPIQ Machinery is optimizing performance for its clients, meeting their objectives in terms of GHG reduction and energy consumption, and automating operations to overcome labour shortages. Thanks to an excellent understanding of the issues and intrinsic challenges faced by its clients, EPIQ is now positioned as a partner of choice.
EPIQ Machinery's global approach is based on innovation and better integration of systems that allow the equipment manufacturer to offer automated solutions with a balanced ratio of costs, technologies, and efficiency. The integration of new technologies based on artificial intelligence and machine learning, and the electrification of mobile solutions are at the heart of EPIQ's development, in line with the deployment of Industry 4.0, a connected and more sustainable industry.
Strategic international partnerships
Promoting a close-to-customer approach, EPIQ has developed numerous partnerships over the past year. In addition to the ongoing agreement between EPIQ Machinery and the Manuloc Group in France, the Quebec company signed an agreement with Taylor Northeast (TNE), a U.S.-based material handling equipment supplier, which has become an authorized distributor of EPIQ MECFOR mobile equipment and spare parts.
In addition, EPIQ Machinery will soon announce another strategic partnership with the Spanish group DTA, to offer a complete range of automated guided vehicles. Under the agreement, EPIQ Machinery will distribute DTA equipment for heavy industries in North America. This collaboration also makes it possible to develop electrically powered equipment, a solution halfway between standard conventional equipment and AGVs. EPIQ Machinery will act as a global integrator of material handling solutions and will provide local after-sales technical support in North America.
In addition to these partnerships, EPIQ Machinery has initiated value-added collaborations with other equipment manufacturers for the benefit of its customers. As a result, EPIQ Machinery collaborated in the installation of the very first self-cleaning filtration system EPURA (Propulsa) with an independent carbon cartridge on an EPIQ MECFOR Anode Hauler. EPIQ Machinery has also co-created, with Dynamic Concept, robotic equipment that will improve the maintenance operations of molten metal furnaces for primary and secondary aluminum producers. This partnership, announced last June, attests of EPIQ's ability to innovate towards increased automation of operations.
EPIQ Machinery continues to look for opportunities in Europe, the Middle East and India to add capacity and also to be closer to its customers. This is for these matters that the company has doubled the production capacity of its manufacturing plant in Pune, India.
– 30 –
Watch our short retrospective video to mark this first year.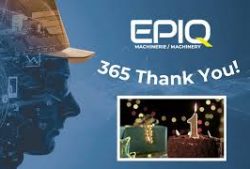 For further information
Isabelle Gaudreau
EPIQ Machinery