EPIQ Machinery and DTA are teaming up to better serve the emerging North America AGV heavy industry market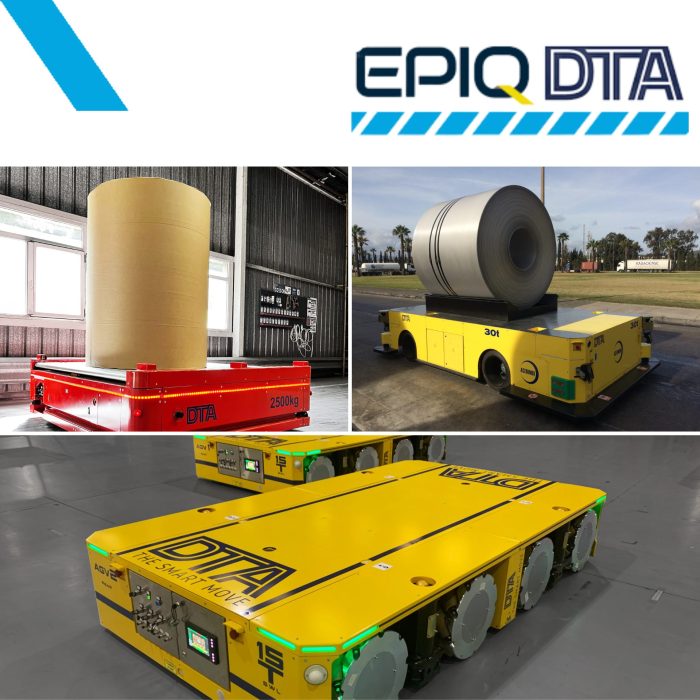 Press release
FOR IMMEDIATE DISTRIBUTION
Montreal, September 7, 2022 – EPIQ Machinery Chief Executive Officer, Éloïse Harvey, and DTA Chief Executive Officer, Miguel de Sebastian Merello are proud to announce their recent teaming agreement. This close collaboration between EPIQ Machinery (Canada) and DTA (Spain) is full of potential bringing an array of AGVs possibilities for the North American heavy industry.
For over 20 years, EPIQ Machinery has developed an in-depth knowledge of Specialized Mobile equipment for the heavy industry. Since 2016, the company is looking into expanding its offer by adding Automated Guided Vehicles to its portfolio under the EPIQ AGV brand. This initiative has led to search for an industrial partner sharing the same vision and customer-centric approach.
EPIQ Machinery is looking into broadening its offer and DTA wants to break into the NA market. By teaming together, their goals are aligned. EPIQ Machinery will be able to respond actively to North American opportunities, act as global material handling solution integrator and provide local after-sale technical support.
The teaming agreement opens up new opportunities on the North American heavy load custom AGV market. The industry witnesses a shift to digital connectivity and automation in heavy industrial sectors. Industrials are soughting ways to maintain operations while overcoming labor shortage they are facing over the last years. The market for specialised/custom made heavy-duty AGVs and the rising demand for industrial type robots is expected to bloom on a short term period.
EPIQ Machinery and DTA wants to actively be part of this shift. Custom-designed heavy-duty automated guided vehicles and transporters are required to meet an industrial customer's specific needs in the manufacturing and assembly industries, such as Primary metals, Pulp and Paper, Railway Maintenance of way and other specialized industries.
As the AGV market is booming, the cooperation between EPIQ Machinery and DTA is an added value. The combination of the skills of the two equipment manufacturers, leaders in their field, can only benefit end-user customers what ever sector of heavy industry they are.
About DTA
Since 1972, DTA specializes in designing and manufacturing of self-propelled transporters for on site transportation from 1 to 1.200 tons. DTA's transporters have been used in different sectors like windmill, railway, shipbuilding, automotive, aerospace, steelmill and foundries, port industry and others.
DTA, the smart move when switching from conventional to AGV mobile equipment.
– 30 –
For more information
Yannick Beaulé
Chief Revenue Officer
EPIQ Machinery
Gonzalo de Sebastián
Sales Director
DTA