EPIQ Machinery is further extending its presence in India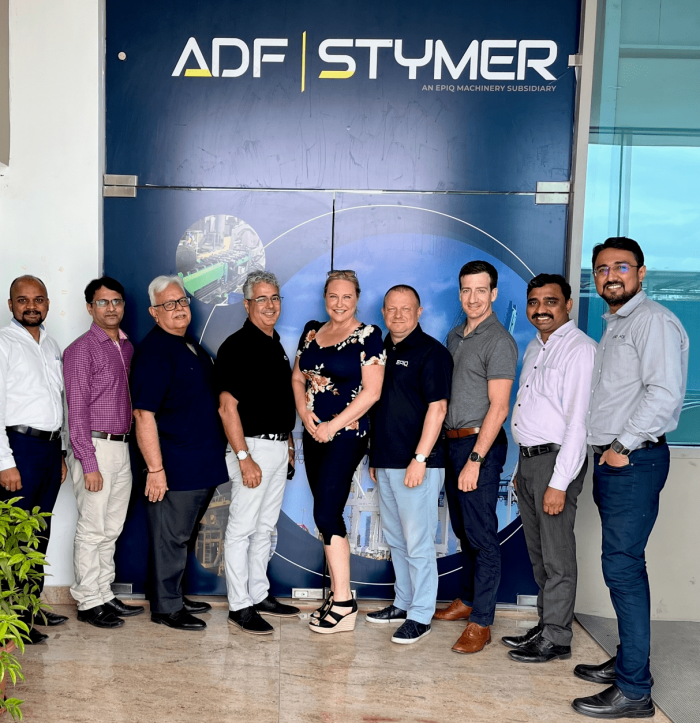 Montreal (Canada) and Pune (India), September 14, 2023 – EPIQ Machinery Chief Executive Officer, Éloïse Harvey, Bhushan Bachhav, Operation Manager, ADF Engineering and Nilesh Shelke, Vice-President, Stymer Technologies are proud to announce the recent transaction confirming the acquisition of Stymer Technologies under ADF Engineering, a subsidiary of EPIQ Machinery, a Canada-based company.
As the main shareholder of ADF Engineering, EPIQ Machinery is delighted with this acquisition. It is in line with the company growth vision and its ongoing commitment to timely deliver high quality materials handling systems to its Primary Metals and Pulp & Paper customers worldwide.
Enhanced Engineering Capacities
Stymer Technologies specializes in engineering services dedicated to offer finest support for engineering, product development, detailing and analysis needs. Stymer Technologies services industrial customers, located in India, the Middle East and in Europe.
International Teamwork
In addition to its current activities, Stymer Technologies will work together, with EPIQ Machinery technical teams in Canada, to support the design of EPIQ's systems. The objective is to use this new capacity to maintain our delivery commitment, in line with market expectations.

Supporting growth
Prior to this transaction, EPIQ's team counted over 600 employees spread across various operating sites in Canada, India, France and the Middle East. The addition of the STYMER group increases the workforce of thirty engineers. All stakeholders are positively welcoming Stymer Technology's to the EPIQ Machinery group. They arrive at the right time to lend a strong hand to current workforce. Finally, this move will enable EPIQ's future growth objectives by building the infrastructure and resources required to continue increasing revenues under the highest industry standards.
QUOTES
This acquisition is a landmark. We are reinforcing our synergies and consolidating our global presence. With our various centers of operations in Canada, France and now India, we are increasing not only our local capacities, but also our flexibility to better service the global heavy-duty equipment market. Indeed, EPIQ Machinery wants to expand its revenue stream through both the local market in India and our global clients using our production facilities in Pune and now this recently added engineering capacity.
Éloïse Harvey, CEO, EPIQ Machinery
As we unveil EPIQ STYMER, we're embarking on a transformative journey. We are excited to see our company gain momentum. The on-boarding of STYMER team within ADF Engineering will bring positive assets to our manufacturing capacities and helps ensuring our continuous growth, as well as that of the EPIQ Machinery group. ADF along with STYMER will be able to undertake more custom-design equipment and offer a wider range of Engineering services to support the growing exponentially needs here in India and in international markets.
Bhushan Bachhav, Operation Manager, ADF Engineering
The partnership of STYMER and ADF within the EPIQ Machinery group brings a new strength to our operations. Our team shall grow stronger in terms of competency and capacity both, to serve our customers in much better way. With EPIQ Machinery we focus on enhancing our customer experience, strengthening our delivery systems, and improving our infrastructure to suit our clients' needs. STYMER has always believed in delivering impactful experience-based services to their clients and EPIQ Machinery gives us strength to continue this work with more vigor. This integration makes us more sustainable and helps us in ramping up our offerings faster. Joining hands with EPIQ helps us to strengthen our presence. STYMER looks forward to a brighter and better future.
Nilesh Shelke, Vice-President, Stymer Technologies
– 30 –
FOR INFORMATION
Chief Revenue Officer, EPIQ Machinery
Operation Manager, ADF Engineering
Director, Sales and Marketing, Stymer